Note: Yes, Lemonade came out a little more than a week ago, but it took me that long to get my thoughts straight on what this post should be about….because well, when it comes to an album that touches on so much, sometimes you gotta let it marinate.

Though it was quite an exquisite, spiritual, beautifully crafted body of work, this is isn't a post reviewing Bey's Lemonade.
This also isn't a full 500 word essay raving about Queen/King Bey (though she has really topped herself this time), nor is it a rant shunning Jay-Z for his supposed transgressions made outside his marriage to her.
When listening to the Lemonade album there was one more overall theme that came to mind besides the obvious, and it was:
#RelationshipGoals
And I know you're thinking, "Avia, why would you even entertain such a thought when Beyonce was basically putting Jay-Z on blast for cheating on her?"
Because, I can probably guarantee that at least one time during Bey-Z's 14+ year relationship, you have labeled their union as such, and Lemonade quickly brought us back to reality.
And that, my friends is the problem…..Let me tell you a quick story. Pull up a chair:
A few years back, I was involved in a long term relationship with a guy who was so great that at the time he encompassed all the things I listed that I wanted in a boyfriend all while adding some qualities I didn't even think of.
We'd laugh together, communicate, debate, and just understood each others weird azz goofiness. You could say back then, my ex and I had "relationship goals" prior to the term being coined. Our idiosyncrasies complimented each other in more ways than one. And our friends could see it too, all because we naturally exuded happiness wherever we were.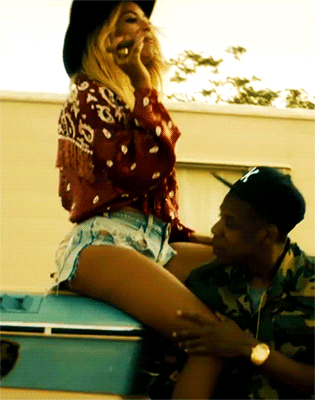 But it wasn't until we broke up that I realized how much of an impact our relationship had on some of our closest peers… I'm talking devastation interwoven in their sadness.  You see in their minds, all they probably replayed were the fun times they shared with us, and the numerous times they witnessed our love, through our affection, words, and actions. And though we did have a good relationship, we had problems that just couldn't be fixed.
The kicker was after the break up, one friend told me if my and ex and I couldn't make it work being as compatible as we were, then there was no hope for her current relationship nor anyone else's.
It was then I became aware of how much our peers looked to our relationship as the definition of success. And when we separated, they were blindsided by our downfall.
Now fast forward to today and the #RelationshipGoals hash tag is all the rage. So much so, that when browsing Instagram under it, you won't be able to scroll for 30 seconds without seeing images of Steph and Ayesha Curry, Prom-posals, or memes with pics of couples embracing one another.
And while there is absolutely nothing wrong with admiring the visual aspects of seemingly loving relationships online or in the media, labeling a union as #RelationshipGoals, comes off suggesting that it is void of any flaws or that whatever flaws exist, they're tolerable to the point one would be okay with taking them on. #RelationshipGoals ignites comparison, implying that someone else has something we should be envious of, when in reality, we don't know what they have.
The truth of the matter is, perception can be the biggest bee-yotch. Because what we see, and how we choose to comprehend it are two completely different things. Perception is the reason why people place couples such as the Curry's and Carter's (and my own ex-relationship) on these untouchable pedestals, as if the image they project makes them immune to everyday relationship issues…
It is that perception that perpetuates the false sense of perfection. Because let's keep it 100%, knowing what we know about what went down in relationships like Chris Brown's and Karrueche's, #RelationshipGoals would be the last thing we would label them as. It seems if there's blatant trouble in paradise, who we label as "goals" can go from 100 to zero real quick.
And that's just it. What we think we know of one's relationship determines how we perceive it. The key factor that we are missing when it comes to perception of a union that we consider "goals", is that the privacy of the relationship is what causes us to fill in the blanks how we see fit.
For it was my ex and I's choice of privacy that caused our peers to think our break up came from left field, when in actuality we were on the verge of separating months prior to it.
Just like prior to Lemonade, it was Bey and Jay's choice of privacy to keep whatever relationship issues under wraps, causing their fans to see them ki-ki-ing it up at the games, luxuriating on yacht vacays, and shooting sexy music videos together as the markers for us to fill in their blanks as a drama free relationship.
And to be honest, if it wasn't for the elevator footage that fateful night post the Met Gala, we may have never suspected otherwise.
In the grand scheme of things, privacy is what separates what the public feels towards Ray Rice's relationship from that of Brad and Angelina's (severe comparison I know). The less we know, the more we assume everything is A-Okay. But anyone who has ever been in a serious relationship/marriage knows that lack of communication, infidelity, disrespect, and lies aren't immune to any couple who seems to have it all together.
Lemonade isn't just a message of an angry woman scorned. It is the visual proof that one of the #RelationshipGoals is being able to overcome it all.
And maybe choice of privacy is the other one. Because for all we know, Ayesha and Steph could have been on the verge of divorcing years ago. And I believe Lemonade confirmed that in between those Nets games and vacations, Beyoncé could've been crying herself to sleep, experiencing the darkest days of her relationship…or maybe not.
While society assumed Beyoncé was too busy drinking watermelon, and being drunk in love to get a taste of real people problems, I believe she let us in on a secret. Despite her fame, fortune, and reputation not being able to control the cards she was dealt in her relationship, she was at home concocting the sweetest lemonade, trying to make sure she did everything to play her deck right.
Take one pint of water, add a half pound of sugar, the juice of eight lemons, the zest of half lemon," she says. "Pour the water into one, then to another several times. Strain through a clean napkin. Grandmother. The alchemist. You spun gold out of his hard life. Conjured beauty from the things I left behind. Found healing where it did not live. Discovered the antidote in your own kitchen. Broke the curse with your own two hands. You passed these instructions down to your own daughter, who then passed them down to her daughter.
Categories: FML, SMH